S.A.S.C.
YYC - Sept. 17th, 2017
Yesterday (Sept. 17th) marked the 12th championship event in the 2017 SASC/CSCC Joint Championship series, however this event was different. With 107 drivers it was the largest turnout we've ever had at the YYC venue which is an accomplishment in itself, but what makes the day even more impressive is that we managed 10 runs per competitor, meaning we had 1034 runs + re-runs (overall nearing 1100 runs). We started shortly before 10:00am and were able to have all runs complete by 4:45pm. This was no easy task and was only possible because of everyone's hard work; from drivers arriving and checking in on time, quick changeovers, tireless efforts of the folks running timing and course workers making quick work of picking up downed cones. For reference, the SCCA Solo Nationals run ~900 runs per day (300 competitors x 3 runs).
It was also nice to see a lot of new faces, it's always great to have new people get involved with the sport.
Photo courtesy of Reijo S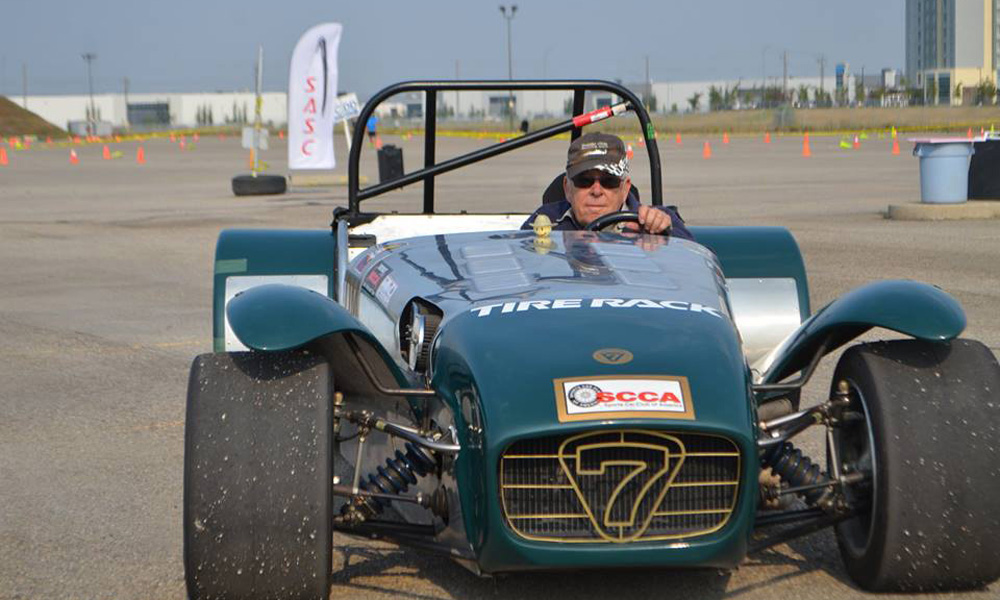 Introduced last year, the Fat Kat Challenge, an elimination challenge that rewards consistent auto-xing, has provided some additional excitement to the clubs regular season of solo events. This year, forty-eight participants entered the challenge in hopes of advancing to the final, and bringing home a cash prize courtesy of Overtime Rentals.
The weekend started with 12 all-out qualifying runs by each competitor. From those qualifying runs, three groups and challenge brackets were formed.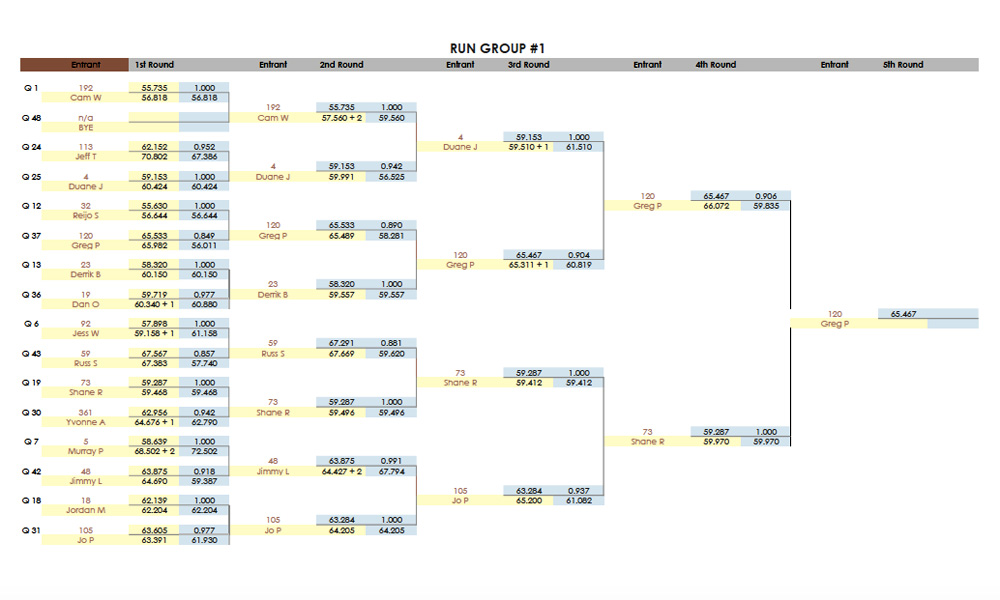 Two time Canadian national champion, Cam Withell, qualified in the top spot for heat 1, with the weekends top PAX time in his A-Street Corvette Z06. That achievement allowed him a bye through to the second round, where he was eliminated in dramatic fashion by Duane Jacka in his BMW Z4. Duane put on a great show, but later fell to rookie driver Greg Piasta, who was quickly familiarizing himself with the sport of auto-x. Young Greg, driving a loaner Ford Focus, beat all four drivers he faced, and was the first to advance into the final.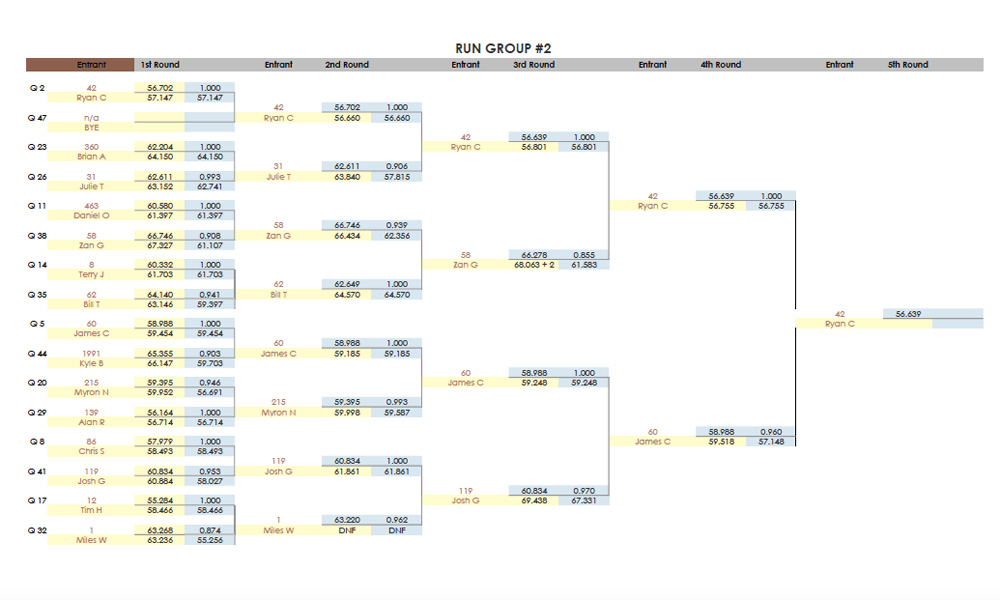 Veteran Ryan Clark qualified atop the second heat in a German B-Street car that was sometimes a Porsche, and at other times a BMW. He drove flawlessly to eliminate all challengers. All of Ryan's runs were within 15 hundredths of a second of each other! In the final battle of the group, James Callaghan and his Subaru WRX provided Ryan with his biggest challenge, but were unable to come out on top.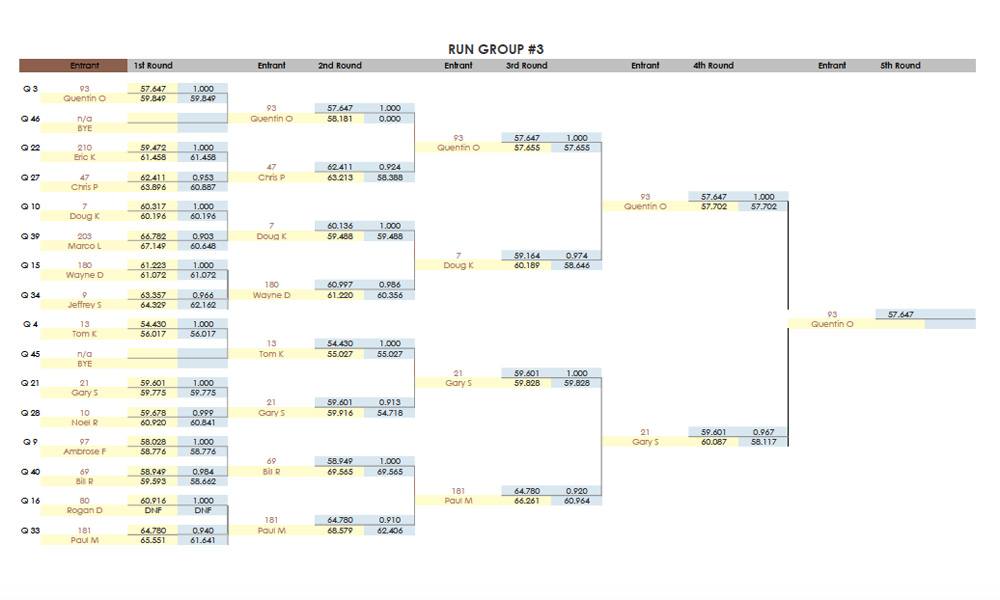 Driving whatever German B-Street car that Ryan Clark wasn't, Quentin Osborne finished 3rd in PAX during qualifying runs, to lead the final heat. Like Ryan, Quentin held his spot and advanced through the group into the final.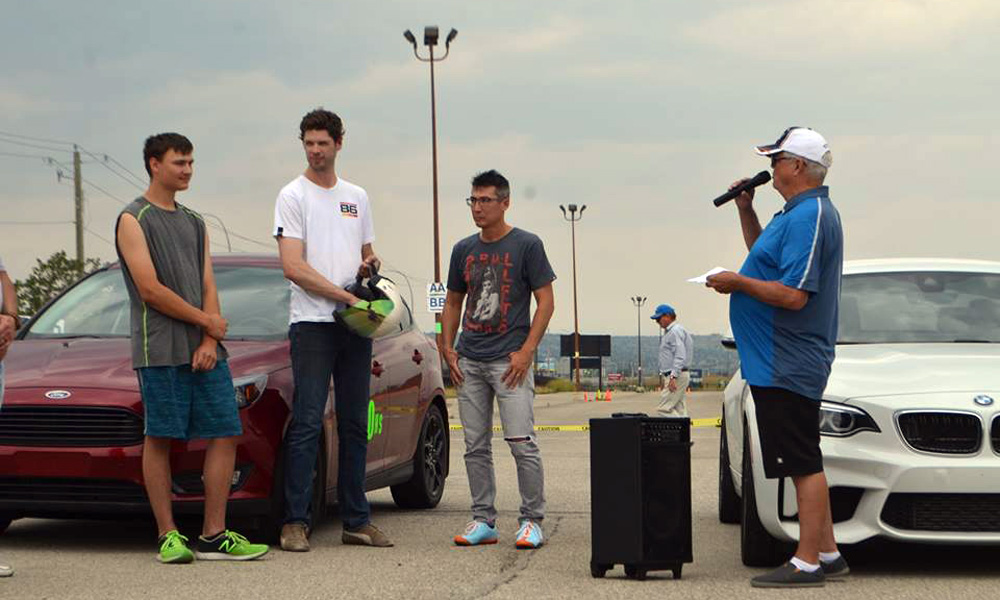 In that final, the efforts of the two veteran drivers fell apart. Ryan picked up a cone, and Quentin had a moment on course that cost him nearly a second. That gave the victory, and majority of the purse to new comer Greg Piasta! Greg took home $600 courtesy of Overtime Rentals who so graciously sponsored the event.
Congratulations Greg! We hope that you'll be back next year to defend your win. Special thanks goes to Overtime Rentals for their support, as well as club members and executive who volunteered their time to put things in place to make this a great weekend for all.
Co-Hosted by the SASC and the CSCC, the 'FAT KAT' Challenge is a special two day solo event being held the weekend of August 12 & 13, 2017 at our YYC lot.
Event Format
This is a 2 day "Match Tour" style of event. Competitors will be divided into 3 separate run groups and allowed a
minimum of 3 timed runs in 3 qualifying sessions
within their run group. Competitor's single best times, from each session, will be combined for an aggregate Challenge qualifying time based on PAX index.
Sunday afternoon the top 16 qualifiers in each run group will face off in their run group Elimination Challenge, to determine the final 3 competitors. These final 3 competitors will be allowed 1 run each to determine their final placement in the
"FAT KAT' Challenge, with OVERTIME Rentals
prize money awarded as follows:
1st Place $600.00
2nd Place $300.00
3rd Place $100.00

An added incentive to Saturday's runs,
additional prize money will be paid to 1st, 2nd and 3rd place PAX finishers
in each of the following 4 groups, both in Saturday's morning and afternoon runs:
Street
Street Touring + Street Prepared + Classic American Muscle + Heritage Classic
Prepared + Street Modified + Modified
Ladies
(This prize money will be a percentage based on total number of entries.)

Eligibility: Competitors and Vehicles
Competitor eligibility, vehicle eligibility and vehicle classing must meet ASN Canada FIA National Solosport Regulations, and also in accordance with SCCA Solo Rules.
As motorsports enthusiasts, it is our goal to not only host motorsports events, but to demonstrate that motorsports activities can be conducted in a responsible manner that benefits the participants everyday driving skills and behavior. With this in mind, participants and attendees are reminded to be respectful of others, property and municipal ordinances, both on and off the event site.
Racing, burning out, stunting, exceeding posted speed limits will not be tolerated. Maximum 10 kph speed limit on site
. Any participant not exhibiting good behavior both on site and off site will be asked to leave and banned from future events.
No alcohol or drugs are allowed on site. Port-a-potties will be available on site.
All garbage must be removed from site.
In an effort to minimize our sound impact, the SASC strictly enforces a 93 dB sound limit at all events. Any vehicle exceeding 93 dB, measured at 50 feet, or showing excessive tire squealing, will be required to stop running.
Event Operations
Entry is limited to the first 120 paid registrants at http://www.MSReg.com/2017FATKAT
Entry Fee $100 for WCMA / ASN / SCCA affiliated members and $140 for non-members.
No onsite registration or payment will be permitted. Event Check-In Closes at 8:30 AM on Saturday morning.
All competitors are required to work one Heat for each of the 3 Sessions they participate in. Failure to work your assignment results in disqualification.
Competitors will be randomly divided into 3 separate Run Groups. Competitors sharing the same car will be entered in to separate Run Groups.
All competitors will be allowed a minimum of 3 timed runs in 3 sessions within their run group; Session 1 Saturday morning, Session 2 Saturday afternoon, Session 3 Sunday morning. Competitor's single best times, from each session, will be combined for an aggregate Challenge qualifying time based on PAX index.
All competitor cars must be to Grid no later than 5 minutes before the start of their Session.
Competitors will not be allowed to "ride along" with any other competitor. Non competitors will be allowed to "ride along" if the competitor agrees.

Sunday afternoon the top 16 PAX qualifiers in each Run Group will participate in their run group Elimination Challenge, to determine the final 3 competitors in the "FAT KAT" Challenge.
Elimination Challenge Procedures:
Each competitor that qualifies for a challenge will be required to work another challenge.
Elimination Challenge eliminates 50% of competitors in each round: 16 cars –> 8 cars –> 4 cars –> 2 cars –> Final "FAT KAT" Challenge Qualifier.
Each competitor will be "dialed in" based on their best individual scratch qualifying time, not PAX time. Any Competitor "breaking out" from this dial in time, will be assigned a new "dial in" time equal to 1.5 times the "break out" for the next round. Example: Dial In time 60.00 secs, Run time 59.00 secs, New Dial In time 58.50 secs.
In the event of a tie, the round will be rerun. If a vehicle breaks the competitor may only use another vehicle within the same class.
Schedule
Saturday August 12, 2017
07:00 Site Open, Course Setup
07:30 Competitor Check In.
Check-In Closes at 8:30 AM
Tech Open for Annual SASC Tech Sticker
08:00 Course Open for Walking
09:00 Mandatory Driver's Meeting
09:30 Competition Runs Start Time
18:00 Site Closes
Sunday August 13, 2017
07:30 Site Open, Course Open for Walking
08:30 Competition Runs Start Time
12:30 Challenge Competition Runs Start Time
15:30 'FAT KAT' Challenge – Final Three Competitors, one run each
Awards Presentation
18:00 Site Closes
For the second time in three years the SASC is home to Canada's Autoslalom Champion. Cam Withell took victory (
1st overall PAX
) again at the national championship this past weekend in Pitt Meadows, driving his A-Street Corvette Z06. Cam was also the overall champion in 2015.
A small group of SASC members made the trip, and brought home multiple trophies, including another class win (
Murray Peterson in C-Street
) and third place overall PAX (
Ryan Clark in B-Street
).
For all who made the trip: we are proud to have you represent us!
For more images and details on the event see MotoIQ's coverage here:
http://www.motoiq.com/MagazineArticles/ID/4557/ASN-Canada-FIA-Canadian-Autoslalom-Championship.aspx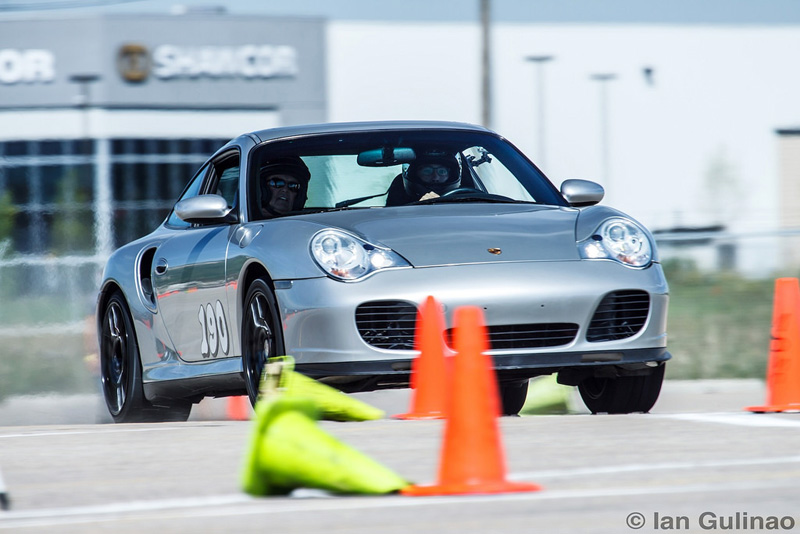 For the 2017 season, the SASC is proud to join forces once again with the Calgary Sports Car Club to offer a combined thirteen solo Championship events at the Westerner Grounds in Red Deer, the Fort Macleod Airport and our recently acquired lot near the Calgary Airport. The championship will be scored as a best 7 of 13 events with a minimum requirement of 2 events at each venue. The full schedule includes a total of twenty six days of driving with multiple schools, WCMA regional championship and practice events on top of the championship events.
For more information, club membership details and registration information, see the forum
POST HERE
.
April 16 Sunday YYC Season Opening Practice Event (Contingent on weather)
April 29 Saturday Fort Macleod Practice Event and Novice School
April 30 Sunday Fort Macleod SASC / CSCC Championship Event #1
May 13 Saturday YYC SASC Novice School
May 14 Sunday YYC SASC/CSCC Championship Event #2
May 20 Saturday Fort Macleod SoloPro Performance Driving School Level 1 / Extreme Day 1
May 21 Sunday Fort Macleod SoloPro Performance Driving School Level 2 / Extreme Day 2
May 28 Sunday Westerner Park Red Deer Championship Event #3
June 4 Sunday Fort Macleod SASC/CSCC Championship Event #4
June 10 Saturday Westerner Park Red Deer Practice Event
June 11 Sunday Westerner Park Red Deer SASC/CSCC Championship Event #5
June 17 Saturday YYC WCMA Regional Championship Day 1
June 18 Sunday YYC WCMA Regional Championship Day 2
July 2 Sunday YYC SASC/CSCC Championship Event #6
July 8 Saturday Westerner Park Red Deer SASC/CSCC Championship Event #7
July 23 Sunday Fort Macleod SASC/CSCC Championship Event #8
August 6 Sunday Westerner Park Red Deer SASC /CSCC Championship Event #9
August 12 Saturday YYC 2-Day Challenge Event **Co-Sponsored with the CSCC**
August 13 Sunday YYC 2-Day Challenge Event **Co-Sponsored with the CSCC**
August 26 Saturday Fort Macleod Practice Event
August 27 Sunday Fort Macleod SASC/CSCC Championship Event #10
September 16 Saturday Westerner Park Red Deer SASC/CSCC Championship Event #11
September 17 Sunday YYC SASC/CSCC Championship Event #12
September 24 Sunday Fort Macleod SASC Fort Macleod Appreciation Event
October 1 Sunday YYC SASC/CSCC Championship Event #13
October 15 Sunday YYC SASC/CSCC Season Closing Event (Contingent on weather)